Lieve and the giants

One of the best discoveries made while preparing the dossier on woven backpacks was this one.
Lieve is the last professional weaver working for the fêtes de Géants, and whilst her creations are not backpacks, they are worn on the back, on the front, on…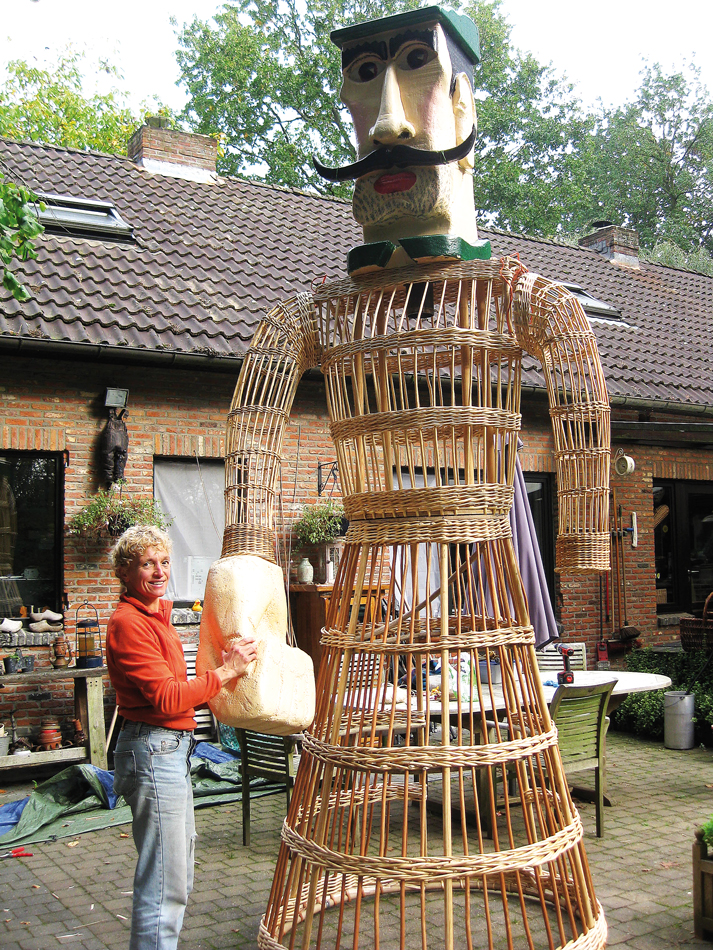 Lieve Lieckens lives in the Flemish Brabant, a region of central Belgium. She is primarily a hands on sort of person and all her activities revolve around her manual skills, whether it's sports (judo, climbing), studies (physiotherapy) or work (basketry). She began her working life as as a student of physiotherapy, but finding it hard to get established she joined the army and there she joined the National Judo Team. A talented sportswoman she became the champion of Belgium and was World Army Champion 5 or 6 times. She finished 7th in the civilian World Championships and missed going to the Olympic Games by a whisker! With the birth of her first child, whomshewantedtolookafterfull time, she left the army and stopped taking part in elite sport.
Without a job and looking for new activities, she met basket maker Anne Hermans who had been to the school of basketry in Fayl-Billot (France). She quickly took to this new activity, which allowed her to reconcile parenting and working from home.
She became passionate about bas- ket weaving and joined the classes run by a Dutch association which invites tutors from all over Europe, like the Dane Steen Madsen who she appreciated very much. In 1999 a client showed her a picture of a decrepit wicker giant! A new challenge for Lieve whose combative spirit remained. She immediately went to see this poor, decrepit wicker giant and rather than just repair it, she and her sister remade it completely.
This recreation of the giant was the trigger for her and she decided to make her living by being a full time basket maker. She had caught the virus of the giants and so she contacted the organisers of the "fêtes de Géants" who were looking for weavers. She moved to Ath (Belgium) at the same time as the local weaver was taking his retirement. This was a boon for the young weaver, who would now scour the festivals between France and Belgium in search of new contracts.
Close to the stars
Some of the giants can be up to 4.5 meters (14.1⁄2 feet) tall and they are made in two parts which fit one inside the other. They need to be both strong and light. Lieve works with carriers who have the difficult task of carrying their giants on their shoulders throughout the year. She tries to improve the wearer's comfort and to reduce the weight by using the best openwork basketry skeletons she can.
There are some amateur weavers, who also work on making the giants, but she is the only professional. Some groups have moved towards using metallic structures, which because of their weight have to be equipped with wheels. The purists will have none of this and they are right! A real giant is carried on the shoulders of men! As one can imagine, you can't make a giant in a garage and Lieve has had to adapt her workshop. It is a round glasshouse, covered with a dome. Her workshop is in the image of her giants, as if it too, wants to reach towards the stars!
Contacts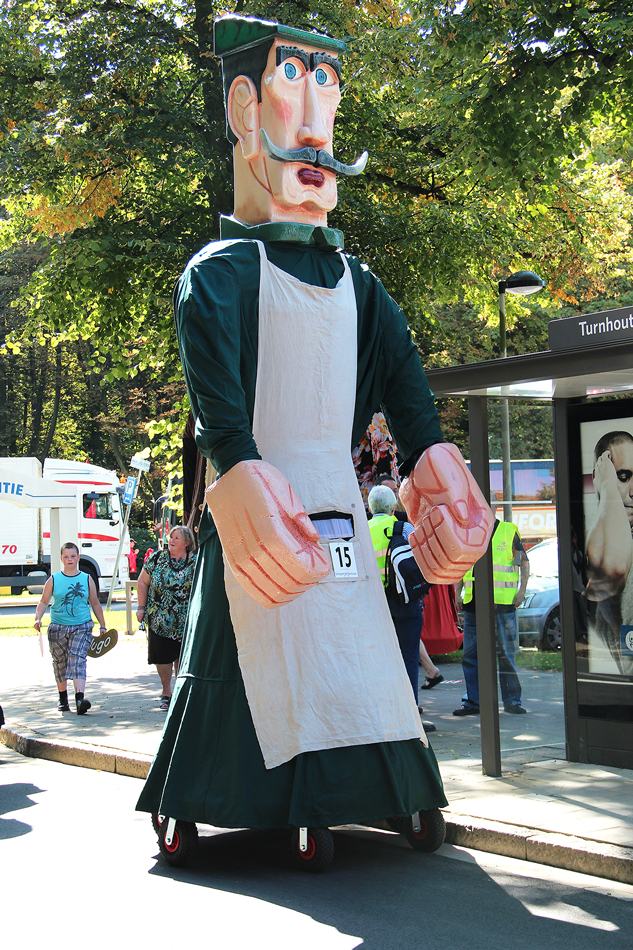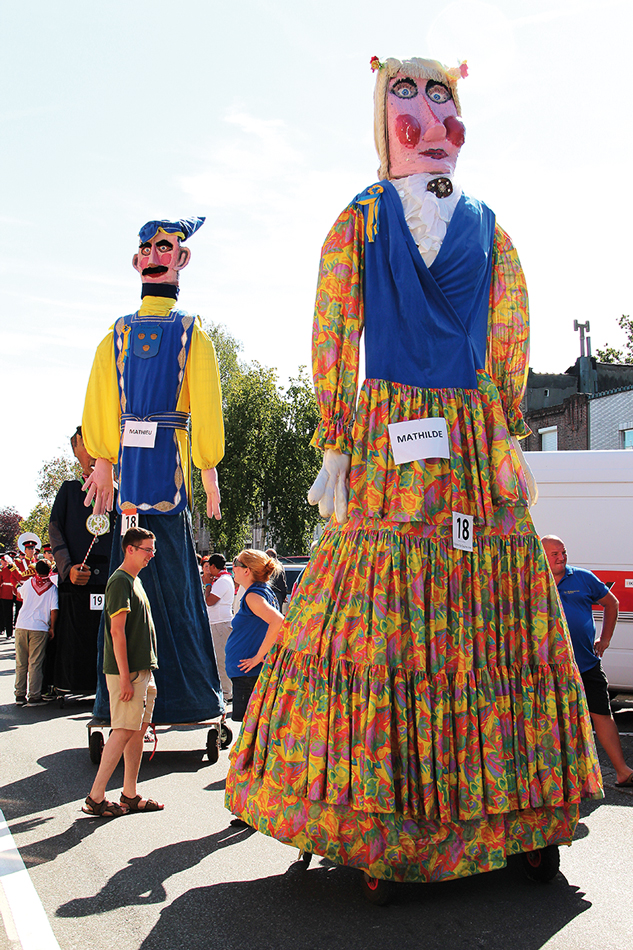 You will find this article in Le Lien créatif, Summer 2016.